In case you missed the #suptchat on Twitter last night, the PAPER team is here to provide you with a comprehensive wrap-up.
Over the course of this year, the pandemic has spotlighted gaps in our education system. In a short amount of time, our system has undergone drastic transformation — changes that would normally have taken decades had to be made at a record-breaking rate.
Educators now have to think: What have we done in the pandemic that we want to continue doing post-pandemic?
The focus of tonight's chat is What's Working and What will We Keep from recent innovations in education? AASA @aasahq President Kristi Wilson @KwilsonBESD33 is joining us as a co-host tonight! #suptchat @npolyak Question Link: https://t.co/s0qxOhvBIz pic.twitter.com/xOIALtrHGF

— Michael Lubelfeld (@mikelubelfeld) November 5, 2020
This was the focus of this month's #suptchat — What's Working & What Will We Keep From Recent Innovations in Education?
Hosted by Michael Lubelfeld, Nick Polyak, and special co-host and AASA President Dr. Kristi Wilson, participants came together to exchange perspectives.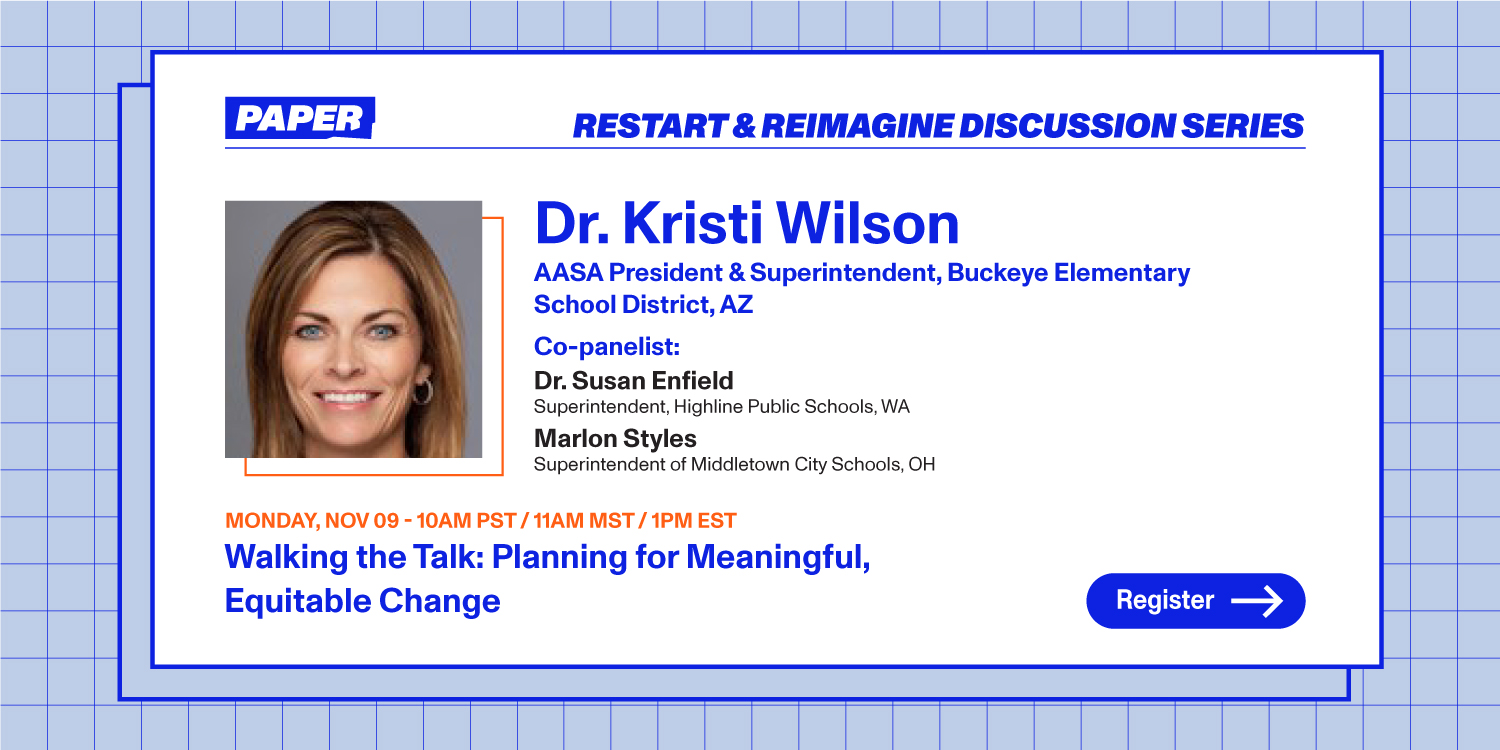 [ALSO: Monday, November 9 — Join AASA President Dr. Kristi Wilson for a panel discussion on the post-pandemic evolution of education]
Q1: If you could go back to March 2020, what advice would your current self give your former self?
Some golden nuggets of advice included:
Compassion (to oneself)
Collaboration with peers
Invest in Zoom
Sticking to your core values
Fight against inequity
Maintain and build relationships
Q1- what advice- collaborate, collaborate, collaborate #suptchat

— Dr. Desmoulin-Kherat (@dkherat) November 5, 2020
A1: My current self would encourage my former self back in March to worry less about every contingency. #suptchat https://t.co/gijjnJTw1d

— Dr. LaTonya M. Goffney (@drgoffney) November 5, 2020
A1: Be patient and kind to yourself. You will survive even when you are sure that can't take one more step. Check on your colleagues and friends, they will need you as much as you need them. #suptchat

— Matthew Montgomery, Ph.D. (@SuptMontgomery) November 5, 2020
A1: If i could go back to March and give myself advice it would be to invest in Zoom 😉...and keep sticking to your core values, listening, focusing on relationships as always, and keep disrupting inequity. #suptchat pic.twitter.com/hlB0ZVugtG

— Renae Bryant, Ed.D. (@DrRenaeBryant) November 5, 2020
Q2: What are your teachers doing this year that is working well for students?
Over the last year, teachers have embraced technology in new and creative ways to engage and support students. #Suptchat participants gave them some well-deserved recognition:
A2 - There are teachers who are really engaging kids in very creative ways. Using the break out rooms to check in, playing trivia games using @crowdpurr and making sure all of their students are engaged on camera or however they can be present #equity #virtualcanbefun #suptchat

— DrDLKerr (@DrDebKerr) November 5, 2020
A2: Our teachers are working fervently to meet the needs of students online & f2f! We launched a new literacy initiative, an SEL dept. & FACE office while embracing a leadership definition. I'm #AldineProud of the laser focus on our strategic priorities during #COVID19 #suptchat https://t.co/NDXonp2XcQ

— Dr. LaTonya M. Goffney (@drgoffney) November 5, 2020
#suptchat A2: Our teachers have been amazing embracing new learning and finding new ways to collaborate. Their use of social media has increased and they are embedding #SEL practices. #TheSELmaWay #TeamSelma

— Dr. Avis Williams (@DrAvisW) November 5, 2020
Q3: What are your support staff members doing for students that is working well?
Throughout spring, summer and fall, support staff members have stepped up and taken on responsibilities outside their regular duties — all to ensure the wellbeing of their community. They have been key in implementing new initiatives, distributing key resources, and even filling in for teachers when needed.
A3: Being generally incredible. They are seeing kids in person, then pivoting to remote learning platforms writing IEPs and IPFs that fit both platforms simultaneously. All while putting kids and families first and foremost! #suptchat

— MrJoeMcCauley (@CauleyMr) November 5, 2020
A3: Our support staff has been filling gaps and stepping up to meet every challenge. They man technology help desks, assist in our internet cafes, provide SEL support, and more. We could not pull this off without them. #suptchat https://t.co/DeZ7pUuJ26

— Brian J. Nichols (@bjnichols) November 5, 2020
It has been amazing to see staff come together to support one another and jump in to help where it's needed. We are all navigating this for the first time and knowing the people around you are there to help makes all the difference. #SuptChat https://t.co/HuVEolAKQD

— Mary Havis (@maryhavis) November 5, 2020
#suptchat Q3. Support team members have joined hips with teachers and are serving as classroom buddies in a fun way. They support attendance calls to missing kids, homework checks and tech needs when needed. They also hold students in breakout rooms for small group work..

— Dr. A. R. T. (@drtuck_art) November 5, 2020
A3: Our child nutrition dept worked all summer to provide food for our families. Our custodial staff ensures our buildings our sanitized. Our transportation staff transports students safely and works to demonstrate how #AldineCares by taking teams to students homes/apts.#suptchat https://t.co/RPtFMiJ3FR

— Dr. LaTonya M. Goffney (@drgoffney) November 5, 2020
Q4: How will teaching and learning look differently in 2021 based on what you have learned so far during the pandemic?
This was a question that no educator can resist weighing in on. After all, every day has looked different from the last in 2020.
Below are just some of the many responses garnered for Q4:
A4: Teaching and learning will be more individually tailored to the strengths and needs of students. And connecting with students and families will be a part of every educator's job—from teachers to bus drivers to central office administrators. #suptchat

— Susan Enfield (@SuptEnfield) November 5, 2020
A4: New era of K-12 education where the learning is accessible for so many students. Educators embracing the responsibility to create inclusive learning environments. Learning will extend beyond the school building as the #HomeworkGap is locked down. #suptchat https://t.co/ls4vZExtK2

— Marlon Styles (@MCSDSuper) November 5, 2020
A4. We've also learned that it's okay for school to look different for some. The senior year can be more flexible than its ever been to maximize opportunities or students #suptchat

— Shane Hotchkiss (@shane_hotchkiss) November 5, 2020
A4: More flexibility on how we engage students and how we serve students when they can't be in school. Learning will be more personalized and I believe family partnerships will only be strengthened in the future. The possibilities are endless! #SuptChat

— Mary Havis (@maryhavis) November 5, 2020
#suptchat A4: A big change has been increasing and diversifying our communication. I focus on being "overly" clear which is more challenging in our virtual spaces. We have created virtual frameworks that will outlast the pandemic. #TeamSelma

— Dr. Avis Williams (@DrAvisW) November 5, 2020
A4 #SuptChat The structural changes that have been accelerated since March like schedules, grading practices will be sustained as it becomes apparent these are better for kids at anytime.

— Randy Squier (@randysquier) November 5, 2020
Well said! If we don't continue to advocate for this, old habits will be easy to return to and the gains we have made in regard to use of tech could be lost, even worse the call for equitable resources will go to the wayside. Rally now. #suptchat

— Kristi Wilson (@KwilsonBESD33) November 5, 2020
Q5: What technological tool or strategy should endure post-pandemic?
Out of necessity, educators have rapidly leveraged technology and this has come with new opportunities to conduct meetings online, deliver lessons and services from afar, and engage and support parents at home.
In future decisions for schooling, many will be keeping in mind the benefits and efficiency of digital tools:
A5: While we are all really worn out from virtual meetings, there is some practicality and usefulness to this platform. It can save time, and increase efficiency. A healthy balance between virtual and in person meetings is important. #suptchat

— 𝓓𝓻. 𝓛𝓲𝓷𝓭𝓼𝓮𝔂 𝓗𝓪𝓵𝓵 (@MS_Supt) November 5, 2020
A5: Parents have taken advantage of virtual platforms to attend conferences, IEP meetings, parent nights, principal coffees. Attending remotely has some benefits that we can certainly maximize to increase engagement. I've also had more communication w/ supt. colleagues! #SuptChat

— Mary Havis (@maryhavis) November 5, 2020
#Suptchat participants also mentioned the opportunity for more flexible and personalized learning paths for students:
A5: Strategies that allow for differentiation and personalization of learning using technology as the vehicle for increased student voice and choice. I am hopeful we will realize the true capacity our young people. #suptchat

— Matthew Montgomery, Ph.D. (@SuptMontgomery) November 5, 2020
A5: Remote learning to some extent has had some positive outcomes. Also, we have had very good feedback in conducting IEP meetings remotely. #suptchat

— Dan_Cox (@Dan_Cox) November 5, 2020
A5 - #suptchat - We are checking in with our students daily on their emotions - asking if they are ready to learn and how we can help. That should always be a part of our day.

— Lisa Leali (she, her, hers) (@LisaLeali) November 5, 2020
Q6: What advice would you give to a new teacher or administrator starting in the pandemic?
Becoming a teacher or administrator during a pandemic is no easy feat. Luckily, there is no shortage of guidance, knowledge and support in the #eduTwitter community.
A6: Take care of yourself! Develop a viable plan to fill your tank, stay healthy in all ways, REST and think about other things besides school/work. Healthy diversions are ultra important! #suptchat

— 𝓓𝓻. 𝓛𝓲𝓷𝓭𝓼𝓮𝔂 𝓗𝓪𝓵𝓵 (@MS_Supt) November 5, 2020
A6 To new admins or teachers starting in the pandemic, my advice is remember we are all unfinished and we are all learners - try - study what works - replicate it - remove what doesn't- keep working for students, each other, & community #suptchat pic.twitter.com/iZ1i6aRDnY

— Michael Lubelfeld (@mikelubelfeld) November 5, 2020
Q6. Almost nothing needs speed. Take time to think, ask questions, and reflect before making big decisions. Sleeping on it usually helps. #suptchat https://t.co/qUq6d8nzqa

— Dr. Candace Singh (@supsingh) November 5, 2020
A6: Remain committed to your vision and beliefs - the how may have changed, but the why remains strong. Create environments where staff take risks, explore new instructional strategies to best meet the needs of students, and invest in each other. Relationships matter:) #suptchat

— Mary Havis (@maryhavis) November 5, 2020
A6 - #suptchat - Practice honesty. This is difficult AND we want what is best for our students. It's ok for both to be true, every day.

— Lisa Leali (she, her, hers) (@LisaLeali) November 5, 2020
Q7: As a leader, how have you evolved/grown during this pandemic?
The communal hardship of educators across the nation has fostered a profoundly supportive environment — leaders are collaborating more than ever before.  
Q7- I have expanded my collegiality with other Superintendents throughout State of Illinois and have benefited greatly with lot of new tools added to my toolkit #suptchat

— Dr. Desmoulin-Kherat (@dkherat) November 5, 2020
#suptchat A7 this pandemic has caused our regional supt group in @QuestarIII to become much closer, 1 zoom mtg at a time. The most collaboration I have had among colleagues in 16 years as a supt. We have provided our own support group.

— Randy Squier (@randysquier) November 5, 2020
But some things haven't changed — student wellbeing is still the guiding force for educators.
#suptchat A7- I have learned that my job has to be focused on the Ss and to keep out all of the noise from the other stakeholders who only want to serve themselves! pic.twitter.com/LtC9zmoHJX

— jgreenmc (@JGreenmc) November 5, 2020
Q8: In what ways have your students shown growth, resiliency & creativity this year?
The silver lining of this year's challenges is the undeniable opportunity for character growth for students. #Suptchat participants proudly shared examples of this:  
#suptchat Q8: Our students are superstars. They are so very resilient and have handled this better than most of the adults. In our half on half off split schedule I get a kick out of seeing our students get real joy in getting to interact in-person after being away for a week.

— Fred Bouchard (@BouchardFred) November 5, 2020
A8: Overall, as we talked about this question & this pandemic, my NCC students thought that middle & high school students have been adaptable. Whatever structures they have faced or changes in them, students have come right on board. They deserve a lot of credit. #suptchat

— Bob McBride (@PorterSup205) November 5, 2020
A8) I have seen creativity reach new leaps and bounds. I also saw / see so many taking risks they never took before.

I even saw a Supt dive into their new pool in a full suit!! #suptchat https://t.co/YJct8fgOJi

— 🅳🆁. 🅹🅰🆈 🅴🅸🆃🅽🅴🆁 (@Jay_Eitner) November 5, 2020
Finally, some concluding remarks from the moderators:
Mark you calendars for the next #suptchat on December 2, 2020 it will be another chat collaboration, or chatlaboration with #K12PRchat @cateked @npolyak - Thank you! pic.twitter.com/9bLqlXCsII

— Michael Lubelfeld (@mikelubelfeld) November 5, 2020
Thanks for joining us on #suptchat this month! Upcoming #suptchat dates: December 2 - K12Chatlaboration with #K12PRChat, January 6 - Being Limitless, and February 5

— Nick Polyak (@npolyak) November 5, 2020
We need to keep the momentum going to enact meaningful long-term change.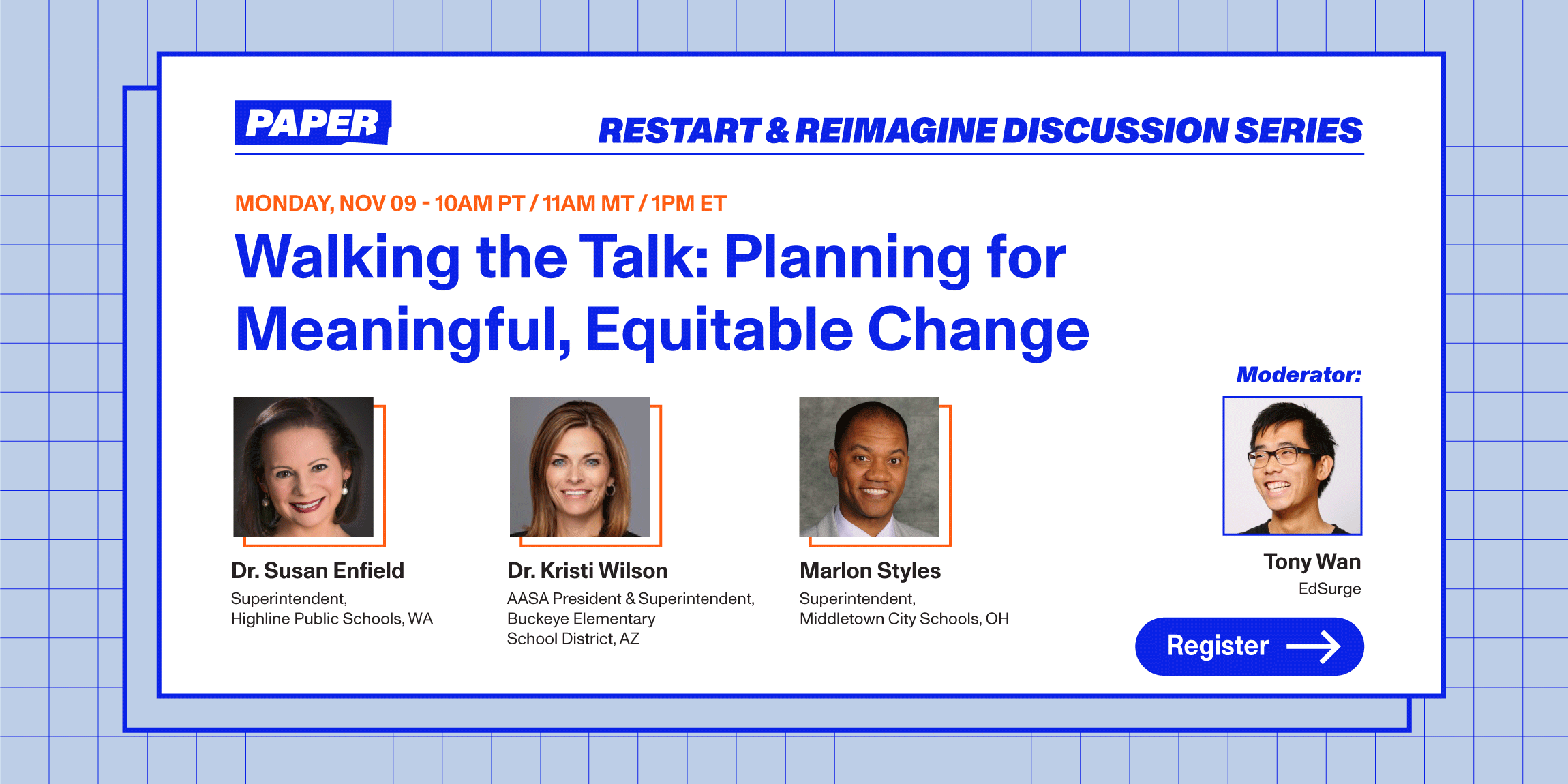 For more, follow @PAPERLearning on Twitter. Click here to see the entire #suptchat!
Providing equitable, unlimited tutoring support for the 2020-2021 school year is crucial. With PAPER, doing this comes at a fixed cost to your district. Learn more.
About PAPER
Founded in 2014, PAPER is an Educational Support System (ESS) providing students with 24/7 unlimited tutoring & essay review sessions, and teachers with real-time feedback and intervention tools. Paper partners with districts across North America to close the achievement gap and support educational equity.